Jewish Book Award Winner
An Interview with Sydney Taylor 2014
Jewish Book Award Winner,
Catia Chen, Illustrator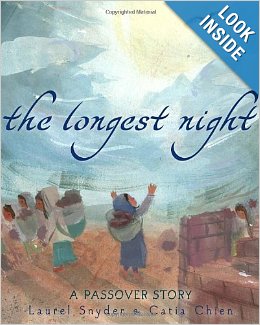 In addition to publishing art and books, I am a Jewish educator. I am the library director at Emek Hebrew Academy where I've been developing an innovative program for creativity education called the "Talent Center" model. You can find out more about it here: http://holysparks.org/jewish-art/dayschools
As an artist and Jewish librarian, I was delighted and curious to be part of the Sydney Taylor Book Award Blog Tour. This award is the leading Jewish children's book prize and went to a lovely picture book, "The Longest Night," written by Laurel Snyder. Read below for highlights of a lovely and quite profound conversation I had with the illustrator of this year's picture book winner, Catia Chen, on art, education, and infusing ordinary life with moments of magic.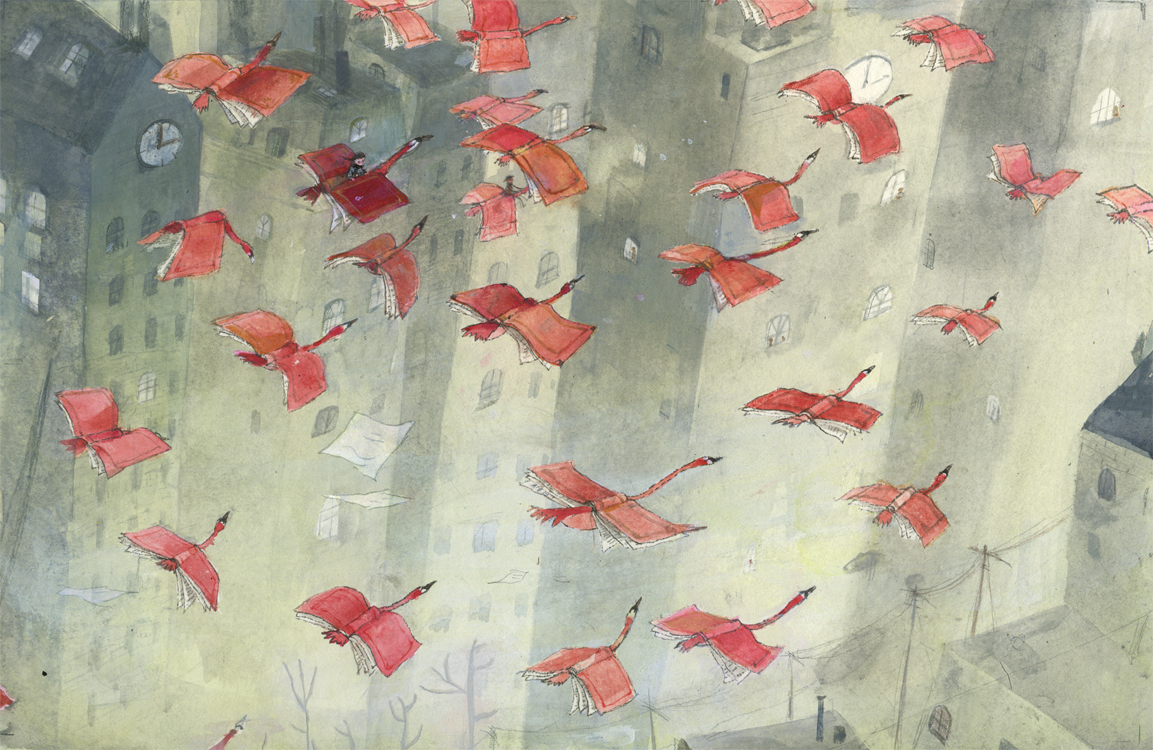 What is your background and how did you get involved in illustrating children's books?
Catia:  My parents are from Taiwan and moved to Brazil. I was born and raised in Brazil. I feel lucky to have that diversity in my background. I feel at home in a lot of different cultures because of my very rich, open and happy childhood experience in Brazil. I think the tropical warm full of dance and samba unconsciously comes out in my work even though I have a quieter kind of personality. I went to school for art and began illustrating for children 10 years ago. I moved to New York City in September. Currently, I'm working on illustrating children's books and creating paintings for gallery shows. I'm also looking for commercial art opportunities.
What do you feel are the most important influences on your art?
Catia: When I was a child I read a lot of comic books. I especially enjoyed Mauricio DeSouza's comic book stories about his daughter and her friends. They weren't superhero stories. He just took the ordinary, playing around in the neighborhood kind of experiences and made them worth telling. I learned that ordinary experiences, like playing in the street or the park are worthy of attention. That's what I do in my work. I look for the extraordinary in the ordinary, everyday experiences and infuse those moments with magic.
How did you come to be an artist?
Catia:  The point that I felt that I became a really, truly artist, was not when I began to go to art school. Before that I was studying anthropology and history. I took an entomology class because I was interested in bugs. I was at a crossroads and didn't know if I wanted to go into science or art. In this class, we were supposed to find a bug and paint it and look through a microscope to study every detail of the bug. Then we were supposed to paint something inspired by it.
I painted a little girl riding on a yellow jacket wasp. She was wearing an aviator hat. It was the largest painting I had ever made and it took me a couple of months. It was a lot of work and sometimes I stayed up all night. The painting was so big, it barely fit in my apartment. I painted in my kitchen standing on my tippy toes and I realized I could do this for a long, long time and be very happy. It was challenging in the best way possible. I was confronted with the challenge of being an artist and I loved those challenges. I didn't fall in love with art because it was easy; I fell in love with art because I love the challenges of it. You fall in love with something because you see the good and the bad in it and you still love it because working with those particular challenges will fulfill you. Who will you show up as being in these challenges?
How do you think education could be improved with art?
Catia:  If you don't have a creative way of looking at math, science and technology, you can't innovate. It's the random things that we learn in childhood that help us think imaginatively about what we do. Look what's happening to the teachers. They want to make a difference and their hands are tied with results-driven education which benefits no one. It's heartbreaking. When a child goes through education based on standardized testing, they're not dreaming as big. There's no connection between what they're learning and what is possible. They are not encouraged to explore unpaved paths and think in new ways about what they are learning.
For example, by combining textiles, medicine, and science, there are hospital gowns that use textile technology to monitor patients' temperature. Innovative, creative niches are created from thinking outside the box. How can you combine different dreams and interests into something unique and fulfilling? It's about using diversity to reach for something unique. It's not about input and output. It's about rewarding risk-taking and effort, creativity and failure. How many days have I tried my best and been embarrassed at the results in my sketchbooks? Success comes from the effort of sitting down and working and also going out, being alive, and taking it all in.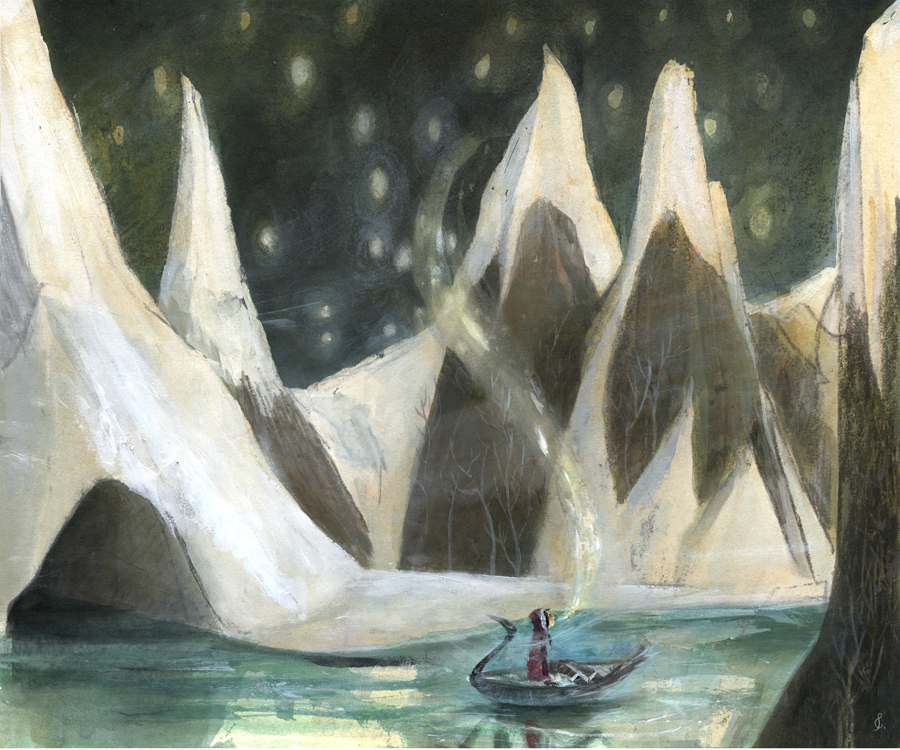 What is your advice to other artists?
Catia:  This world can feel very aggressive and competitive, especially in the arts. The pace of expected output is beyond what we can keep up with. People are sacrificing their health and relationships trying to keep up. Take care and pride in your work. It's important to be mindful and centered about what you do. It's ironic that the more you think about output, the more it's compromised. It's better not to think about the results, in order to get better results. This is healthy work and life balance.
What does the Sydney Taylor award/honor mean to you?
Catia:  It is an honor to receive the Sydney Taylor award.  It means the world to me. Thank you so much.  My hope is to always do the best job I can when I work and this award validates not only the hard work but also the emotional resonance of my illustrations which is so important to me.
What are your next steps in your literary career?
Catia:  I would like to continue to push children's book illustration in a direction that is innovative and fun.  I will continue to illustrate other authors stories, but the next steps will be to focus more on both writing and illustrating my own children's books and also working on a graphic novel about my family.
I hope someday to write and illustrate a story that will bring the dream of world peace one step closer. I want to break down barriers between people, to say hello and find out their story. I hope to write stories that are dear to my life and do some good in the world by transforming the lives of children for the better.
Here's the description of, "The Longest Night," from the Amazon listing:
"Here's a picture book for all Jewish families to read while celebrating Passover. Unlike other Passover picture books that focus on the contemporary celebration of the holiday, or are children's haggadahs, this gorgeous picture book in verse follows the actual story of the Exodus. Told through the eyes of a young slave girl, author Laurel Snyder and illustrator Catia Chien skillfully and gently depict the story of Pharoah, Moses, the 10 plagues, and the parting of the Red Sea in a remarkably accessible way."
You can order it by clicking here:
You can follow the Sydney Taylor Book Jewish Book Award Blog Tour at the Association of Jewish Libraries Jewish Book Awards blog.