Awareness of G-d
Is there an area of your life
that can be illuminated with
awareness of G-d?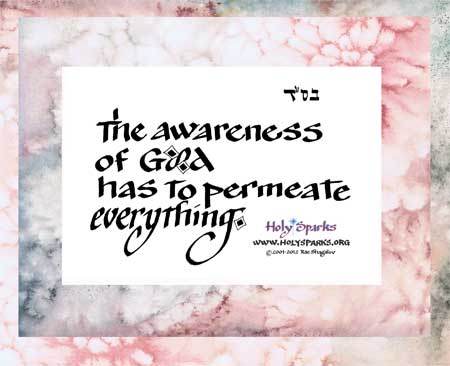 The Awareness of G-d
has to permeate everything we do,

not just our brief moments of prayer.
A beautiful Jewish meditation, one of my favorites,
is to choose a certain period of time –
five minutes, twenty minutes, an hour…
and contemplate the presence of G-d
in everything you come in contact with.
Psalm 65 contains the most amazing meditation
to help you do this.
Verse 10 says:
"You remember the earth and water it,
You enrich it abundantly from G-d's stream
that is filled with water."
Note that this beautiful verse does not say,
"the stream of water that is filled with G-d,"
as we would normally think of it. It says:
"G-d's stream that is filled with water."
Your Soul Adventure For Today
Awareness of G-d Meditation
So as you go through your ordinary day,
contemplate the "Stream of G-d" that is filled with computer,
and the Stream of G-d that is filled with kitchen sink,
and the Stream of G-d that is filled with traffic,
and the Stream of G-d that is filled with each person you meet,
and the Stream of G-d that is filled with YOU.
What area of your life
can be more illuminated with
greater awareness of G-d?
Please share your experiences with this meditation
in the comment section below.
This Jewish art and calligraphy is from a Yud Shvat farbrengen
with Mrs. Leah Levine of Agoura Hills and Mrs. Esther Friedman of Kansas.
Gold and Silver Members,
Download Your Art Below.
[Content protected for Silver members only]



Are you a Holy Sparks Silver Member?
Congratulations!
These Artnotes are included
in your Silver Membership.
If you are not seeing the download box,
Log in at the bottom of this page.
Be sure to share your questions, wisdom,
and favorite quotes in the comment box below.
Not yet a Silver Member?
After you join you can login, download,
and print these Artnotes immediately,
along with many others in our
ever-growing gallery of inspirational
Torah Artnotes & Quotes, and worldly wisdom
from the leaders of our generation.
Don't miss out on these amazing
Torah secrets!
Join Holy Sparks for calligraphy Artnotes
& Quotes, Affirmations and Action Guides
that you can instantly download every month.
You'll be inspired to go higher, step-by-step,
with unique Holy Sparks Soul Kits for
personal development and spiritual growth.
For less than the price
of a single lunch
you can be inspired and encouraged
all month long, surrounded by beautiful art.
Become A Holy Sparks Silver Member today.
We keep our price very low so that it is easy for you to join.
Only $9.95/Month and you can cancel at any time.
Your payment is processed on secure servers.